Montreal, Quebec – June 12th, 2019 – NanoXplore Inc. ("NanoXplore" or the "Corporation") (TSX-V: GRA and OTCQX: NNXPF) is pleased to announce that the addition of GrapheneBlack™ (NanoXplore's proprietary graphene product) to plastics increases the number of times plastics can be used – enabling a multi-use plastic that is now recyclable.
Prime Minister of Canada Justin Trudeau announced this week that his government will ban single-use plastics as early as 2021. In a statement, Mr. Trudeau mentioned: "Less than 10 percent of plastic used in Canada gets recycled. Without a change in course, Canadians will throw away an estimated $11 billion worth of plastic materials each year by 2030."
Dr. Soroush Nazarpour, Chief Executive Officer of NanoXplore, commented:
"We are committed to a sustainable future at NanoXplore and we have dedicated our resources and knowledge towards this goal. As a result of a 24-month research and testing program, we can confirm that by adding our GrapheneBlack™  powder and masterbatches to everyday-use plastics, such as Polyethylene, we can increase the lifetime of these plastics by making them reusable. Degradation and thermal aging are the main reasons why many plastics are not reusable. GrapheneBlack™ protects plastics from these negative effects and provides our customers with a cost-effective and sustainable solution without disrupting the existing plastic supply chain. We are excited to help address the challenges of reusability of plastic."
Technical Notes
Plastics lose their physical properties every time they go through a recycling process. These processes include injection molding and extrusion. Adding small quantities of GrapheneBlack™ counterbalances the detrimental effect of multiple processing cycles on the mechanical properties of plastic – making them more durable and more suitable for recycling purposes. For example, when only 1% of GrapheneBlack™  3X is added by weight to polyethylene ("PE"), the stiffness of the material remains unchanged after several successive processing cycles. Comparatively, without the addition of GrapheneBlack™, results illustrate that a portion of the stiffness of the PE is lost after each processing cycle. This is attributable to GrapheneBlack's™ ability to protect the polymer against thermal and ultraviolet degradation during each processing cycle – significantly increasing the lifetime of the polymer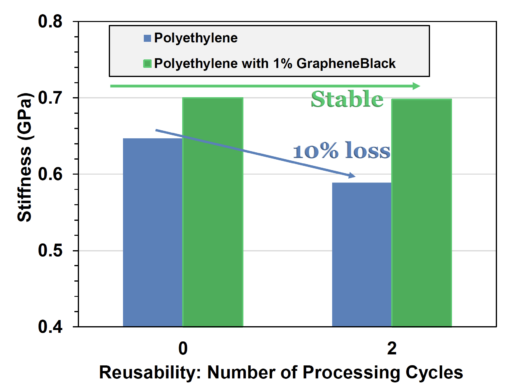 About NanoXplore Inc.
NanoXplore is a graphene company, a manufacturer and supplier of high-volume graphene powder for use in industrial markets. The Corporation provides standard and custom graphene-enhanced plastic and composite products to various customers in transportation, packaging, electronics, and other industrial sectors. NanoXplore is headquartered in Montreal, Quebec, with nearly 400 employees supporting manufacturing facilities across Canada, the U.S. and Switzerland.
Neither the TSX Venture Exchange nor its Regulation Services Provider (as that term is defined in policies of the TSX Venture Exchange) accepts responsibility for the adequacy or accuracy of this release.
For more information, please contact:
NanoXplore Inc.
Liam Farrell
Vice President of Corporate Development
[email protected]